And we are off! The re:Invent 2020 keynote has kicked off this year's rather different AWS re:Invent. In a normal year, upwards of 50 000 people would have descended on Las Vegas for a 4 day deep dive into the AWS platform and services. This year, we are all stuck behind our screens watching online!
Andy Jassy launched the event with his traditional keynote and there was much to get excited about.
Are you re:inventing?
The key theme this year was around whether you are re:inventing your business? Andy talked about some of the key capabilities you need to consider. This included some familiar themes such as building the right team and skills, driving from the top and keeping it simple. You need to remember that in 2020, it's important not to be afraid to cut your own lunch. After all, it's better that you do that to yourself before someone does it to you! In the end, you can't fight gravity. As the world changes, so must your organisation.
If you aren't in the Cloud already, we would argue that you are already going backwards.
What about the new stuff?
Of course, we all love hearing about the new announcements and the re:Invent 2020 keynote didn't disappoint. Despite a number of big pre-event announcements, such as the AWS Network Firewall, there was a lot to take away here. So, buckle up, here is a whistle stop tour of our highlights.
Compute
The key takeout was more for less – more variety of faster instances at a lower cost. Higher performance networks and larger on-instance storage options also featured. There were also some more machine learning (ML) optimised instances to get that blazing performance. AWS also announced it's second custom chipset (after Inferencia announced last year) optimised for ML.
There were three announcements in the serverless computing space that we were particularly excited about.
Per ms billing for Lambda. Previously, Lambda execution was billed in 100ms blocks so for short lived, often executed functions we should see some good cost savings;
Upsized Lambda instances, now supporting 6 vCPUs and 10GB of memory;
AWS Proton, a deployment service for containers and serverless. It's designed to remove the infrastructure provisioning and deployment heavy lifting while enabling monitoring and regular updates. This looks like a great service to ensure serverless is built and deployed with a consistent standard applied.
There's even a MacOS instance now which is perfect if you are building products for the Apple ecosystem!
Containers
People love them some containers! In fact they love them so much that AWS will now help you run both the ECS (Docker) and EKS (Kubernetes) services on-premises. The cunningly named Amazon ECS Anywhere and EKS Anywhere will allow you to do just that!
Storage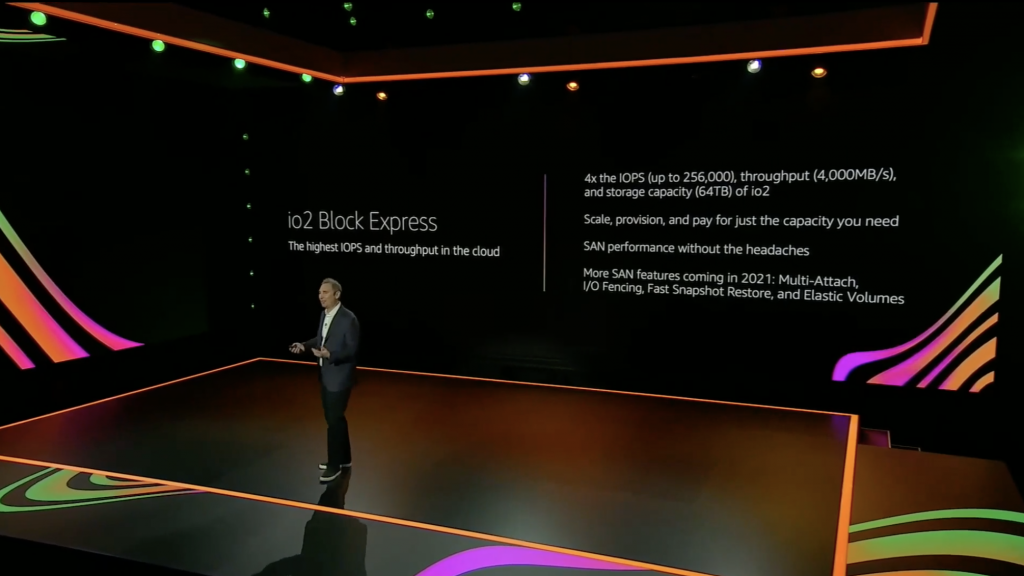 Two main announcements fell under the storage banner and we were particular excited by the io2 Block Express storage. It's super high I/O performance, effectively a SAN built in and for the Cloud, supporting 256 000 IOPS! Watch out traditional storage vendors!
A new general purpose storage tier was also released, GP3, offering higher performance but also the ability to scale IOPS and capacity independently.
Database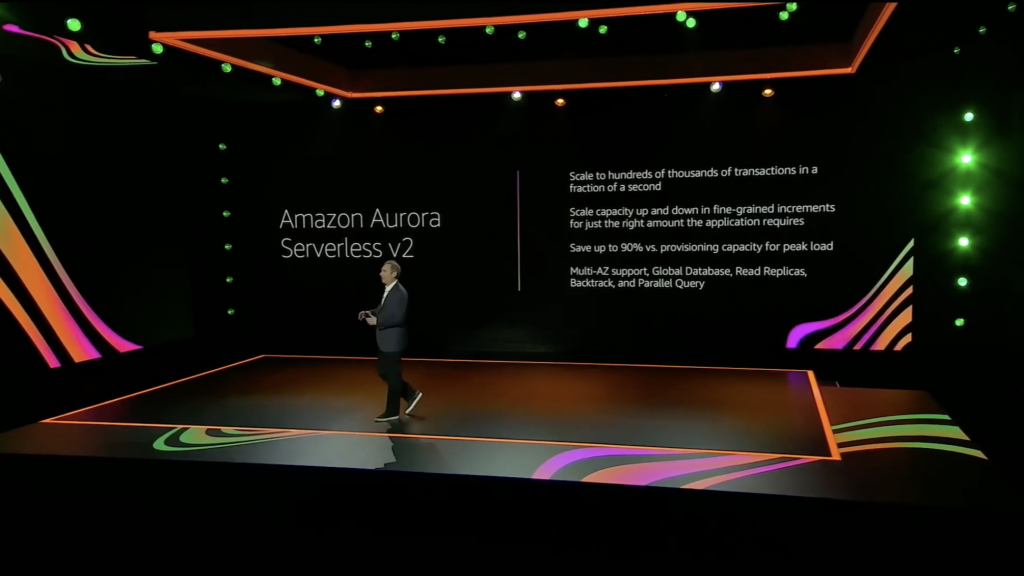 There were 2 big releases in the database space.
Amazon Aurora Serverless v2 – the second major version of the Aurora Serverless database. It now provides almost instant scale up and down in fine increments and support for hundreds of thousands of transactions.
Babelfish for Amazon Aurora PostgreSQL. Sick of changes to your licensing just because you are using "someone else's Cloud"? I'm looking at you, Microsoft. Babelfish is a new translation layer for Amazon Aurora PostgreSQL that enables Aurora to understand commands from applications written for Microsoft SQL Server. With Babelfish, Aurora PostgreSQL now understands T-SQL, Microsoft SQL Server's proprietary SQL dialect. Apps that were originally written for SQL Server can now work with Aurora with minimal changes. Wow! It's a pretty exciting prospect that could save you thousands of dollars in license charges.
Data analytics & ML
There was a heap of enhancements and additions to the analytics & ML space so we will keep this brief!
In the ML training and modelling space, the following were announced.
AWS Glue Elastic Stores – materialised views for data sources with SageMaker;
Amazon SageMaker Data Wrangler – Data Wrangler simplifies the data preparation and feature engineering for ML;
Amazon SageMaker Feature Store – Feature Store offers one consistent view of features for ML models. This make it significantly easier to generate models that produce highly accurate predictions;
Amazon SageMaker Pipeline – the first CI/CD pipeline build specifically for Machine Learning.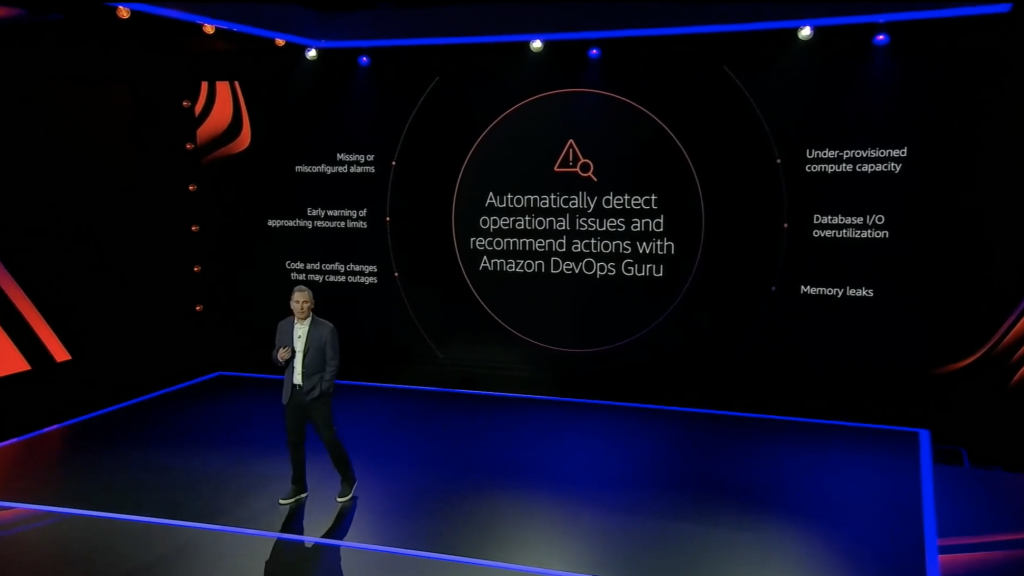 New services that are powered by  ML technology.
Contact centre
In 2017, Amazon release Connect, a contact centre in the Cloud. They have been steadily adding features and services to it, including a bunch of ML powered services such as sentiment analysis and speech to text. Today, in the re:Invent 2020 keynote, Andy announced even more capabilities for Connect.
The big one was Real-Time Contact Lens for Connect. Contact Lens was announced last year and offers insights into the customer experience as a post call analysis. Now that has been enhanced with a real-time version, allowing intervention in the event of a problematic customer experience. That's huge for brand and for customer satisfaction!
Amazon Connect Wisdom reduces the time agents spend answering customers questions. It does this by allowing agents to search across multiple repositories using natural language;
Amazon Connect Customer Profiles – unified customer profiles for an improved and more personalised customer experience;
Amazon Connect Tasks – follow-up task tracking and management for agents;
Amazon Connect Voice ID – real-time caller authentication to make voice interactions faster and more secure.
Bringing AWS closer
AWS Outposts was released last year. It is a fully managed service that offers the same AWS infrastructure, AWS services, APIs and tools to your on-premises data centre. AWS Outposts is suited to workloads that require low latency access to on-premises systems but with the benefits of the AWS services. Until today, Outposts was only available in a minimum 42U rack form factor.  Today, AWS announced that Outposts will be available in two smaller form factors, 1U and 2U rack-mountable servers for locations with limited space. Suddenly, you can put Outposts into your smaller sites too!
AWS Local Zones are an extension of a region that places selected AWS services close to large population and industry centres. AWS announced a significant expansion of the deployment footprint in the US. Sadly, nothing has been announced for outside of the US. We would love to see this solution in Australia and New Zealand.
Finally, AWS Wavelength places AWS Compute and Storage at the Edge of a carrier's 5G network to enhance the mobile experience. It was initially rolled out with Verizon in the US and will shortly be expanding to the UK, Korea and Japan.
Phew!
That's a lot to absorb! There are some amazing opportunities with these new releases. Stay tuned for more news, views and thoughts from re:Invent 2020. Please get in touch if you would like to know more about any of these announcements or about AWS in general.